When Parts Cleaning Is Critical…
Choose custom formulated detergents and process chemicals from ChemStation

CHEMSTATION SOLUTIONS
ChemStation is a service that provides custom formulated, aqueous, biodegradable,
industrial detergents, delivered to refillable containers.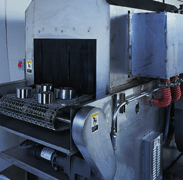 ChemStation custom formulates for your specific parts cleaning applications. These formulations can include:
Blends of synthetic detergents, emulsifiers, and wetting agents
Products that can be used in all types of immersion or spray equipment
Additives that are safe for use on aluminum, other soft metals, and polycarbonate plastics
Rust inhibitors
Additives that work effectively in hard or soft water
The ChemStation system delivers parts cleaning chemicals where you need it, when you need it.
TYPES OF SOILS CLEANED
Gear oil
Transit coating
Various ink resins
Lapping compound
Cutting oils & coolants
Other process oils
Grease
Dykum
BENEFITS OF AQUEOUS CLEANERS
Increasing government regulations limiting solvent use
Environmentally safe (biodegradable) for discharging and disposal
Non-ozone depleting
Low or no VOC ratings
Nontoxic formulations
Safety for employees and community
Nonflammable
Noncarcinogenic
Nonmutagenic
Nonteratogenic
TYPES OF PARTS CLEANING EQUIPMENT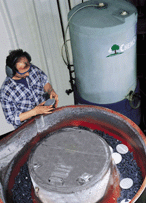 Automated conveyor-belt degreasers
Rotation immersion jet-cleaning systems
High-pressure cabinet washers
"Sink and soak" tank washers
Tumblers
Vibratory and Ultrasonic equipment
TYPES OF MATERIALS CLEANED
Cold rolled steel
Stainless steel
Copper, brass, aluminum
Industrial alloys (e.g., magnesium, titanium)
Plastics
Cast iron
PRODUCT OPTIONS
Rust inhibitors
Emulsifying
Nonemulsifying
Demulsifying
Low or no foam
Compatible with filtration, oil-removing, or waste water treatment systems
Nonbutyl
Nonphosphate
SERVICE
Network of manufacturing centers to serveyour local, regional and national needs
Maintenance on ChemStation equipment
No time wasted on ordering, receiving, handling or disposing of containers
Just-In-Time delivery to minimize inventory carrying costs
SPECIALIZED EDUCATION AND SUPPORT
Product education
HAZMAT education
Right-To-Know
Waste stream management