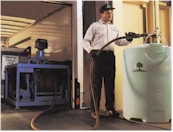 ChemStation Chesapeake is a woman-owned company that offers custom formulated, environmentally friendly industrial cleaning and process chemicals, providing an economical and efficient, green solution for your chemical needs.
Our system is your solution and we are here for you. The ChemStation System is one part science and two parts organization… We custom blend your formula… whether you're washing down a fleet or a factory, warehouse, production facility, brewery or a restaurant. ChemStation is the permanent solution to your maintenance management problems
The ChemStation System is easier, safer, better for the environment, and saves time and money.

EFFICIENT
Products delivered where you need them, when you need them
Computerized inventory management, just-in-time delivery
Local manufacturing for fast response
ECONOMICAL
No hidden costs for ordering, receiving, storing and handling
Tanks and hardware provided
Reduced product loss from improper dilution
Reduced product loss due to discarded containers

ENVIRONMENTALLY SOUND
Water based, biodegradable cleaners
US EPA-approved Design for the Environment products
Refillable containers provide a green storage solution
SAFE SOLUTIONS
Quality is guaranteed
Quality compliance testing on every product batch
Safe proportioning/dispensing equipment provided at your facility
Safer for your employees leading to reduced Workers' Compensation exposure
OSHA Employee Right to Know education offered

"WORK WITH" PARTNERSHIP
From problem solving to employee training, ChemStation's philosophy is to find the best answer for each customer and to continue looking for improvement opportunities. ChemStation's "work with" partnership provides customized solutions to individual needs.